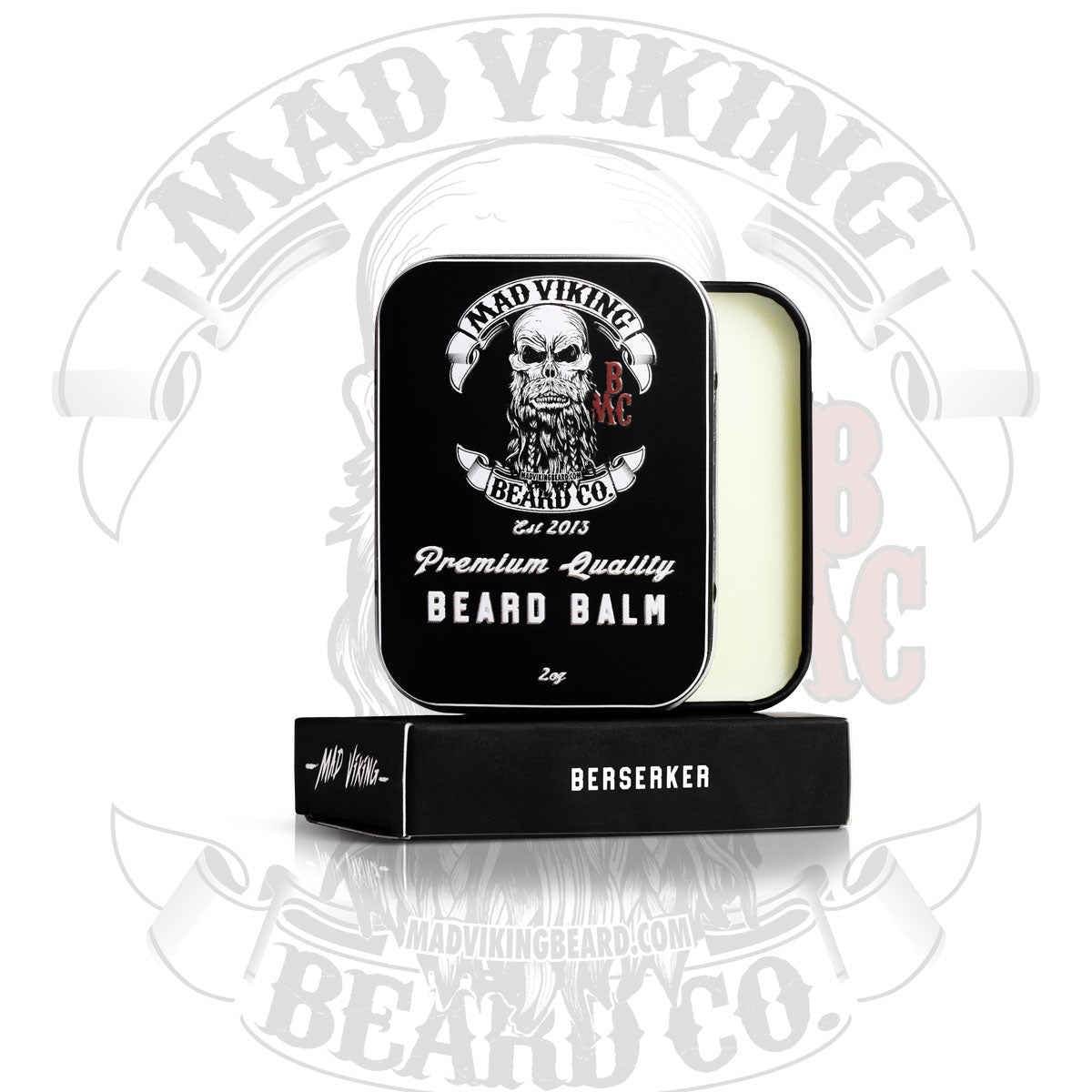 BERSERKER BEARD BALM
Regular price
$27.87
$27.87
/
---
BERSERKER BEARD BALM [2oz]
[Ber-ser-ker]: Berserker, an ancient Norse warrior who fought in a frenzied rage without fear and often without armor. From the very first application our Berserker Beard Balm will have you ready to conquer the world. Our proprietary blend of essential oils, butters and waxes combine to make an unforgettable, pleasant aroma that lets everyone know you mean business. Berserker Beard Balm applies with a refreshing medium note of Lemongrass which fades into the perfect combination of peppermint, sandalwood and slight notes of Patchouli. Berserker Beard Balm will have you ready for battle and you will get noticed.
SCENT PROFILE: LEMONGRASS, SANDALWOOD & LIGHT PATCHOULI

KEY BENEFITS:


MEDIUM HOLD FOR STYLING
ALL NATURAL BASE OILS & BUTTERS
NON GREASY
EASY TO APPLY
RELIEVES DRY SKIN
LOCKS IN MOISTURE FOR SKIN AND BEARD
STOPS BEARD DANDRUFF
KILLS THE BEARD ITCH
PROMOTES STRONG & HEALTHY GROWTH
NONCOMEDOGENIC
Our Beard Balm consists of the following nutrient rich base oils, butters and waxes to help maintain, condition, manage and promote healthy growth and provide a medium styled hold without looking greasy. Mad Viking Beard Balms are just better for your beard.
For more information about our balm ingredients, including their benefits, click here: Balm Ingredients
Sweet Almond Oil (cold pressed) / Scientific Name: Prunus dulcis
Apricot Kernel Oil (cold pressed) / Scientific Name: Prunus armeniaca
Pumpkinseed Oil (cold pressed)
Avocado Oil (cold pressed) / Scientific Name: Persea gratissima
Grapeseed Oil Organic (cold pressed) / Scientific Name: Vitis vinifera
Jojoba Oil Golden Organic (cold pressed) Scientific Name: Simmondsia chinensis
Hempseed Oil (cold pressed)
Vitamin E Oil (Alpha Tocopherol)
Shea Butter Virgin Unrefined (certified organic)
Cocoa Butter (Natural Deodorized)
Beeswax