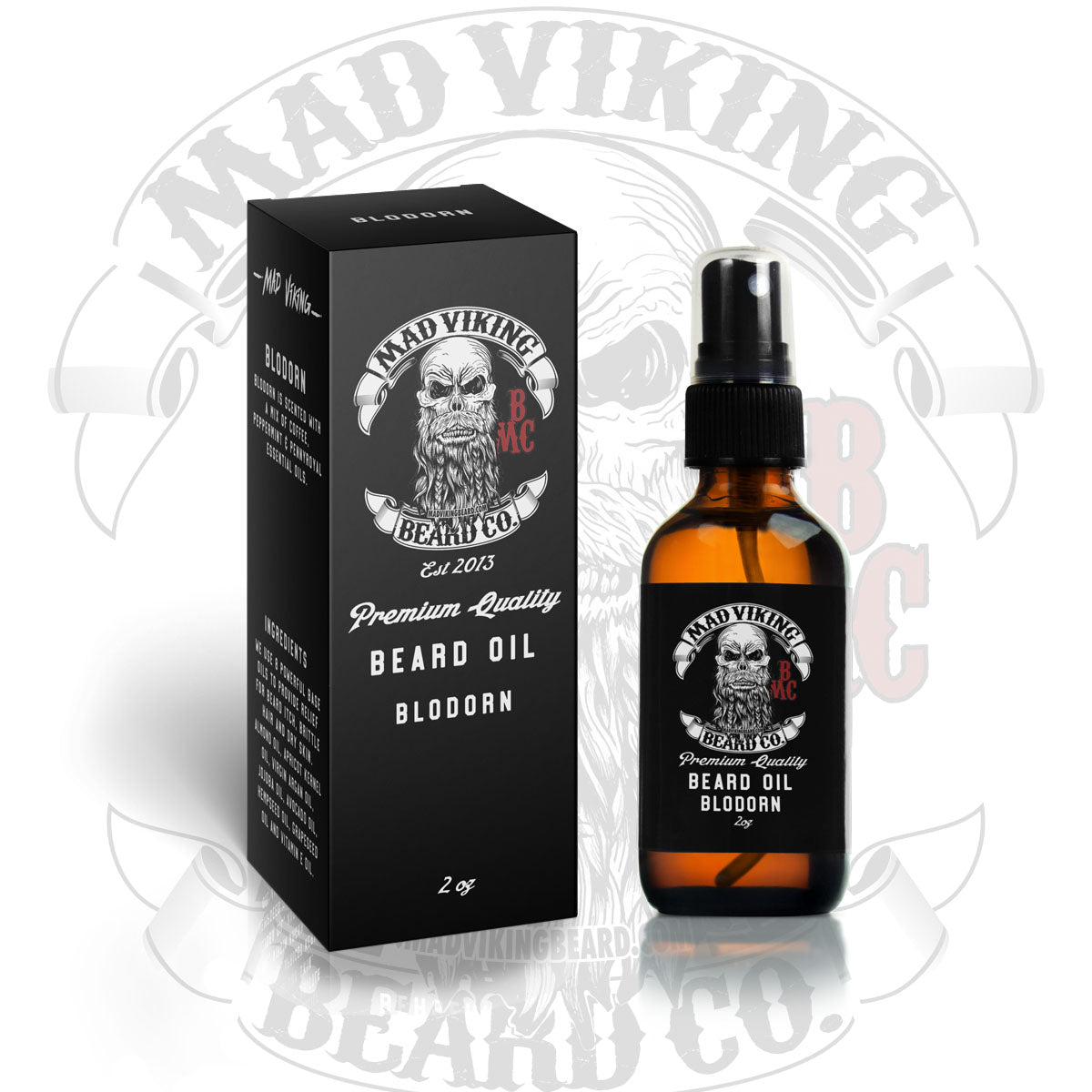 BLODORN BEARD OIL
Regular price
$19.99
$19.99
/
---
BLODORN BEARD OIL [2oz]
[Blood-ORN]: The blood eagle, a ritualized method of execution detailed in late skaldic poetry was meant to punish and invoke fear into one's adversaries. Blodorn Beard Oil is scented with Therapeutic grade Peppermint and Coffee essential oils resulting in a one of a kind experience for your beard. Upon application you will immediately notice the peppermint waking up your skin while creating a cooling effect, all the while getting hints of fresh ground coffee beans. You will notice more mild coffee undertones throughout the day as the Peppermint fades. Blodorn is one of our heavier scents and is ideal for business meetings and late night pillaging alike.
SCENT PROFILE: COFFEE/MOCHA & PEPPERMINT

KEY BENEFITS:

ALL NATURAL BASE OILS
NON GREASY
EASY TO APPLY
RELIEVES DRY SKIN
LOCKS IN MOISTURE FOR SKIN AND BEARD
STOPS BEARD DANDRUFF
KILLS THE BEARD ITCH
PROMOTES STRONG & HEALTHY GROWTH
NONCOMEDOGENIC
All of our oils contain the following eight nutrient rich carrier oils to help maintain, condition, and promote the healthy growth of your beard without looking or feeling greasy. Check out our detailed Mad Viking Beard Company's beard oil ingredients list and understand their benefits. Simply put, Mad Viking Beard Oil is just better for your beard.
Sweet Almond Oil (cold pressed) / Scientific Name: Prunus dulcis
Apricot Kernel Oil (cold pressed) / Scientific Name: Prunus armeniaca
Argan Oil Virgin (cold pressed) / Scientific Name: Argania spinose
Jojoba Oil Golden Organic (cold pressed) Scientific Name: Simmondsia chinensis
Avocado Oil (cold pressed) / Scientific Name: Persea gratissima
Hempseed Oil refined (cold pressed) / Scientific Name: Cannabis Sativa L
Grapeseed Oil Organic (cold pressed) / Scientific Name: Vitis vinifera
Vitamin E Oil (Alpha Tocopherol)