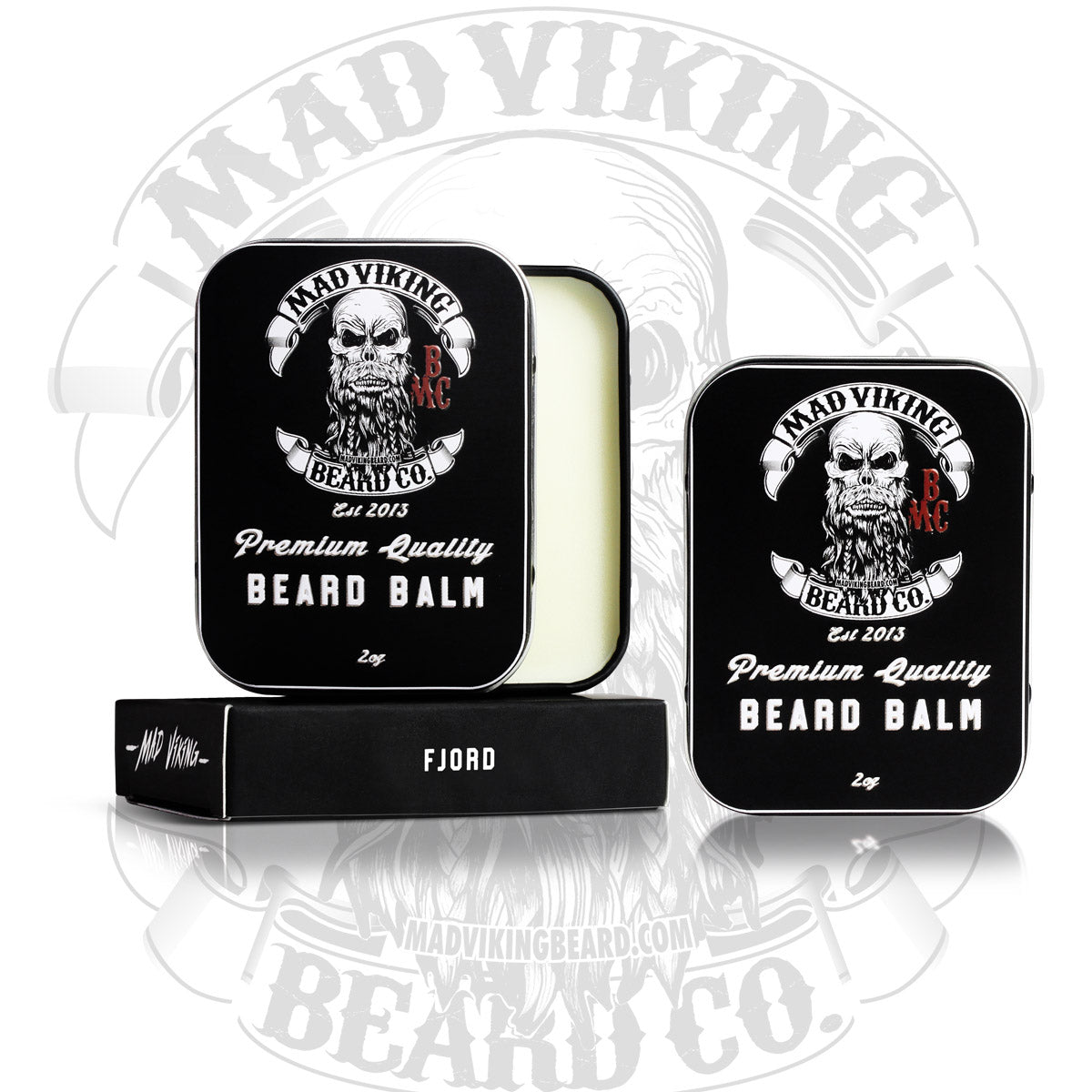 MAD VIKING BEARD BALM 2 PACK
Regular price
$38.00
$38.00
/
---
MAD VIKING BEARD BALM 2 PACK
[4oz total]
Are you looking for a little control and styling for your beard? If so then look no further. Mad Viking beard balm will handle the task while keeping your beard soft and manageable. Our balm has many of the same benefits as our beard oils, but it adds a few butters and light amounts of wax to enable you to style your beard and keep it shaped up. Look below at the many benefits of our beard balms!
Available in all 16 scents. Looking for even more variety? Try our Sample Beard Balm Pack!
SCENT PROFILE:
DESCRIPTION IN THE TABS
KEY BENEFITS:
MEDIUM HOLD FOR STYLING
ALL NATURAL BASE OILS & BUTTERS
NON GREASY
EASY TO APPLY
RELIEVES DRY SKIN
LOCKS IN MOISTURE FOR SKIN AND BEARD
STOPS BEARD DANDRUFF
KILLS THE BEARD ITCH
PROMOTES STRONG & HEALTHY GROWTH
NONCOMEDOGENIC
Our Beard Balm consists of the following nutrient rich base oils, butters and waxes to help maintain, condition, manage and promote healthy growth and provide a medium styled hold without looking greasy. Mad Viking Beard Balms are just better for your beard.
For more information about our balm ingredients, including their benefits, click here: Balm Ingredients
Sweet Almond Oil (cold pressed) / Scientific Name: Prunus dulcis
Apricot Kernel Oil (cold pressed) / Scientific Name: Prunus armeniaca
Pumpkinseed Oil (cold pressed)
Avocado Oil (cold pressed) / Scientific Name: Persea gratissima
Grapeseed Oil Organic (cold pressed) / Scientific Name: Vitis vinifera
Jojoba Oil Golden Organic (cold pressed) Scientific Name: Simmondsia chinensis
Hempseed Oil (cold pressed)
Vitamin E Oil (Alpha Tocopherol)
Shea Butter Virgin Unrefined (certified organic)
Cocoa Butter (Natural Deodorized)
Beeswax
Scent Profiles:
Berserker (Lemongrass, Sandalwood, Peppermint and Patchouli)
Blodorn (Coffee, Mocha, Peppermint)
Dragonshead (Coconut with lite Lime)
Fjord (Classic and clean cologne scent. You will find hints of mint, cardamom, orange blossum, cedarwood and sandalwood)
Gungnir (Mountain airy with masculine spices and hints of musk)
Ingen Doft (Scentless)
Jotunn's Brew (Nag Champa)
Laderrock (Leather)
Mjolnir (Sandalwood, Cedarwood, Peppermint)
Odin's Rok (Pipe tobacco with Cherry)
Ragnarok (Citrus, Orange, Lemon, Lime)
Ravn Rom (Old Barbershop, Bay Rum with lite Lime)
The Hollow (Woodsy somewhat earthy notes with herbaceous vetiver undertones)
The Orchard (Apple, Light Vanilla)
Valhalla (Sandalwood, Vanilla)
Yggdrasil (Heavy Pine with light crisp citrus)