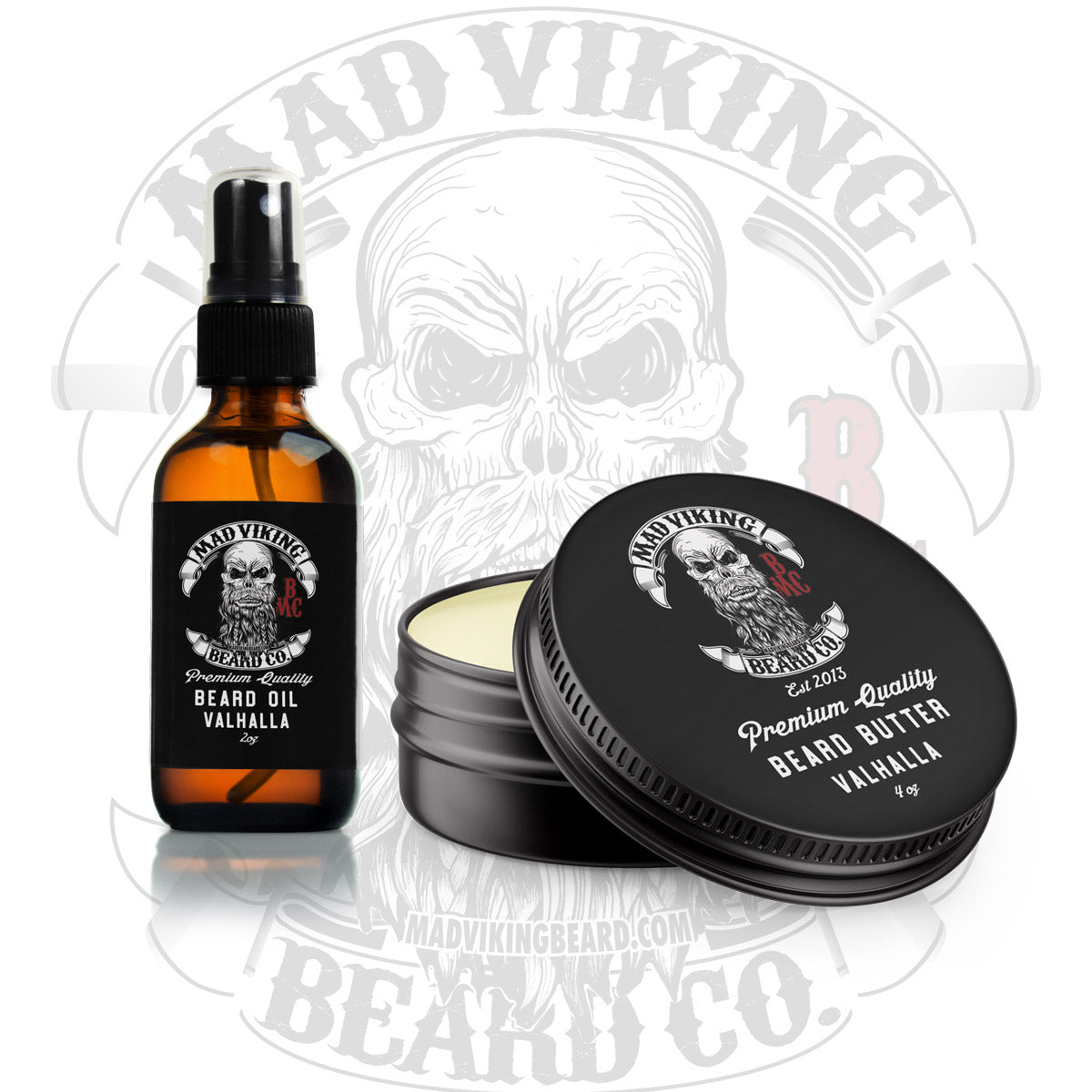 MAD VIKING BEARD OIL & BUTTER COMBO
Regular price
$38.00
$38.00
/
---
MAD VIKING BEARD OIL & BUTTER COMBO [2oz oil & 4oz butter]
Are you looking for that ultimate one-two punch combination for your beard care needs? If so, then look no further. Mad Viking beard oil and beard butter has lead the pack since its creation. Our beard oil and beard butter has been often imitated but never duplicated. Use the beard oil after a shower to lock in moisture to keep your beard and skin hydrated and to keep your beard feeling soft and itch free. Grab the beard butter and put it in before bed to get a great restorative and conditioning experience! You can also give your beard a light style and shape if you choose to put it in during the day. When our beard oil and balm are used together they create a winning combination.
SCENT PROFILE:
DESCRIPTION IN THE TABS
KEY BENEFITS:
LIGHT HOLD FOR STYLING AND CONDITIONING
ALL NATURAL BASE OILS & BUTTERS
NON GREASY
EASY TO APPLY
RELIEVES DRY SKIN
LOCKS IN MOISTURE FOR SKIN AND BEARD
STOPS BEARD DANDRUFF
KILLS THE BEARD ITCH
PROMOTES STRONG & HEALTHY GROWTH
NONCOMEDOGENIC
Mad Viking beard butter contains a high content of nutrient rich and moisturizing ingredients. This makes our beard butters one of the most intensely moisturizing beard butters available. They're chock-full of antioxidants and proteins to help repair your skin and hair. If you want a great looking, soft and manageable beard, please consider our all natural ingredients to get the job done for you.
Mad Viking Beard Butter contains the following nutrient rich natural ingredients:
Mango Butter (Mangifera Indica Seed Butter)
Shea Butter (Butyrospermum Parkii)
Cocoa Butter (Theobroma Cacao Seed Butter)
Jojoba Oil (Simmondsia Chinensis Seed Oil)
Argan Oil (Argania Spinosa Oil)
Grapeseed Oil (Vitis Vinifera Seed Oil)
Vitamin E Oil (Tocopheryl Acetate)
All of our oils contain the following eight nutrient rich carrier oils to help maintain, condition, and promote the healthy growth of your beard without looking or feeling greasy. Check out our detailed Mad Viking Beard Company's beard oil ingredients list and understand their benefits. Simply put, Mad Viking Beard Oil is just better for your beard.
Sweet Almond Oil (cold pressed) / Scientific Name: Prunus dulcis
Apricot Kernel Oil (cold pressed) / Scientific Name: Prunus armeniaca
Argan Oil Virgin (cold pressed) / Scientific Name: Argania spinose
Jojoba Oil Golden Organic (cold pressed) Scientific Name: Simmondsia chinensis
Avocado Oil (cold pressed) / Scientific Name: Persea gratissima
Hempseed Oil refined (cold pressed) / Scientific Name: Cannabis Sativa L
Grapeseed Oil Organic (cold pressed) / Scientific Name: Vitis vinifera
Vitamin E Oil (Alpha Tocopherol)
Scent Profiles:
Berserker (Lemongrass, Sandalwood, Peppermint and Patchouli)
Blodorn (Coffee, Mocha, Peppermint)
Dragonshead (Coconut with lite Lime)
Fjord (Classic and clean cologne scent. You will find hints of mint, cardamom, orange blossum, cedarwood and sandalwood)
Gungnir (Mountain airy with masculine spices and hints of musk)
Ingen Doft (Scentless)
Jotunn's Brew (Nag Champa)
Laderrock (Leather)
Mjolnir (Sandalwood, Cedarwood, Peppermint)
Odin's Rok (Pipe tobacco with Cherry)
Ragnarok (Citrus, Orange, Lemon, Lime)
Ravn Rom (Old Barbershop, Bay Rum with lite Lime)
The Hollow (Woodsy somewhat earthy notes with herbaceous vetiver undertones)
The Orchard (Apple, Light Vanilla)
Valhalla (Sandalwood, Vanilla)
Yggdrasil (Heavy Pine with light crisp citrus)