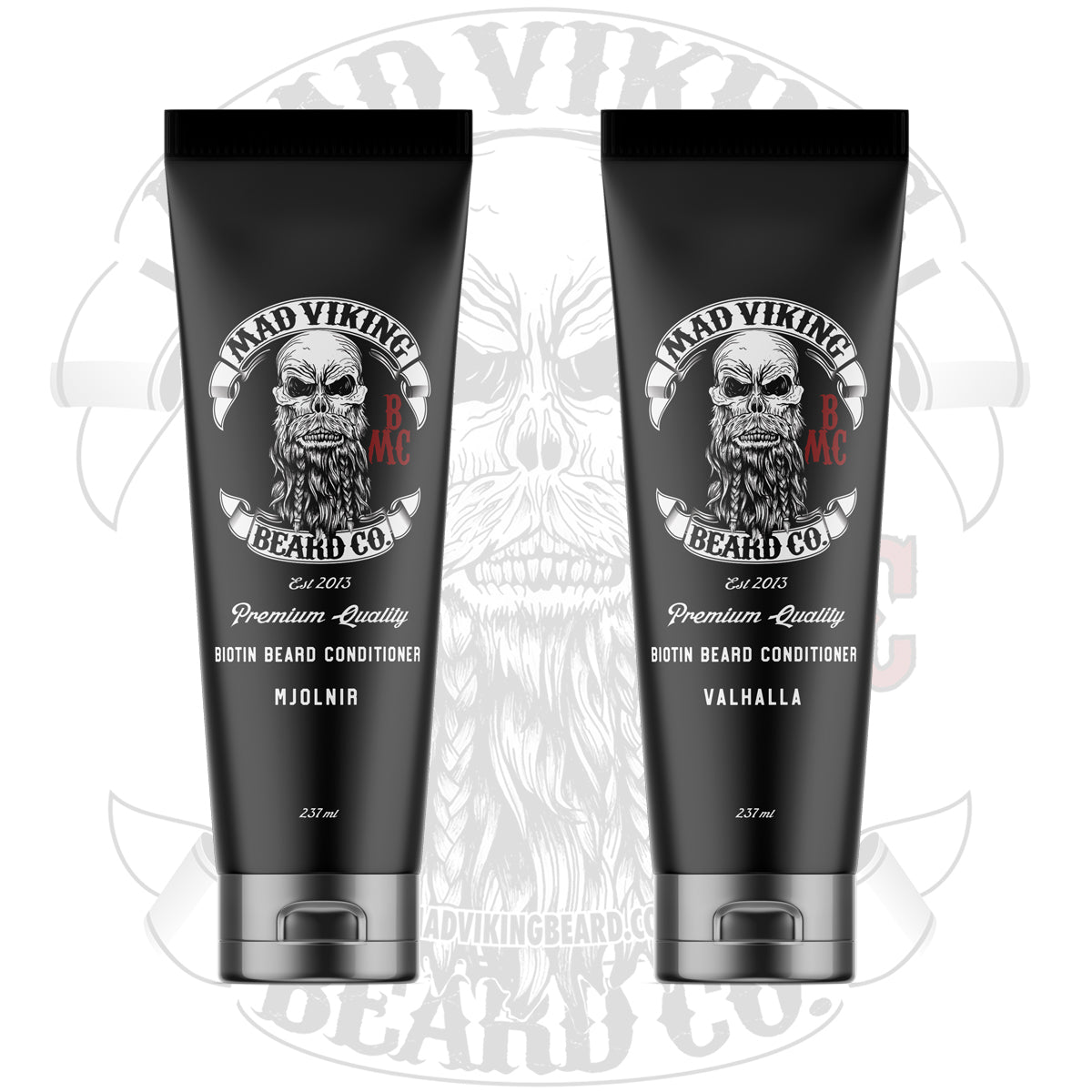 MAD VIKING BIOTIN BEARD CONDITIONER 2 PACK
Regular price
$34.00
$34.00
/
---
Mad Viking Biotin Beard Conditioner 2 Pack

If you are looking for the best moisturizing and growth beard conditioner on the market, then look no further! Mad Viking Biotin Beard Conditioner® gives an all
around great beard conditioning experience.
Specifically designed for coarser hair types.
Nourishes beard with strengthening
Hydrolyzed Rice Protein and Pro-Vitamin
B5. Leaves skin and beard hydrated and
healthy with added Olive and Jojoba Oil! Mad Viking Beard Team tested and
approved.

SCENT PROFILE: IN THE TABS BELOW

KEY BENEFITS:

Deeply conditions & Promotes healthy growth
Nourishing Pro-Vitamin B5 & Biotin
Hydrolyzed Rice Protein
Moisturizing Olive & Jojoba Oils
Protects & prevents breakage
No added sulfates
No added parabens
No added phthalates
Satisfaction Guaranteed: Our Shampoos and Conditioners are both made in a state of the art facility here in the USA, which is FDA Inspected and GMP Certified. This means our products are safeguarded by the highest level of manufacturing standards. All of our products are rigorously inspected for both product and packaging standards.

Ingredients:

Water (Aqua), Equisetum Arvense (Organic Horsetail Plant) Extract, Urtica Dioica (Organic Nettle Leaf ) Extract, Salvia Officinalis (Organic Sage) Extract, Panax Ginseng (Organic Korean Ginseng) Extract, Calendula Officinalis (Organic Calendula) Extract, Olea Europaea (Organic Olive) Oil, Camellia Oleifera (Organic Camellia Leaf ) Extract, Simmondsia Chinensis (Jojoba Oil), Laminaria Digitata (Seaweed) Extract, Xanthan Gum, Vegetable Glycerin, Cannabis Sativa (Organic Hemp) Seed Oil, Panthenol (ProVitamin B5), Hydrolyzed Rice Protein, Inositol, Cystine, Cysteine, Methionine, Biotin, Sodium Benzoate, Benzoic Acid, Vitamin D, Citric Acid, Benzyl Alcohol, Salicylic Acid, Glycerin, Sorbic Acid.
Scent Profiles:
Berserker (Lemongrass, Sandalwood, Peppermint and Patchouli)
Blodorn (Coffee, Mocha, Peppermint)
Dragonshead (Coconut with lite Lime)
Fjord (Classic and clean cologne scent. You will find hints of mint, cardamom, orange blossum, cedarwood and sandalwood)
Gungnir (Mountain airy with masculine spices and hints of musk)
Ingen Doft (Scentless)
Jotunn's Brew (Nag Champa)
Laderrock (Leather)
Mjolnir (Sandalwood, Cedarwood, Peppermint)
Odin's Rok (Pipe tobacco with Cherry)
Ragnarok (Citrus, Orange, Lemon, Lime)
Ravn Rom (Old Barbershop, Bay Rum with lite Lime)
The Hollow (Woodsy somewhat earthy notes with herbaceous vetiver undertones)
The Orchard (Apple, Light Vanilla)
Valhalla (Sandalwood, Vanilla)
Yggdrasil (Heavy Pine with light crisp citrus)