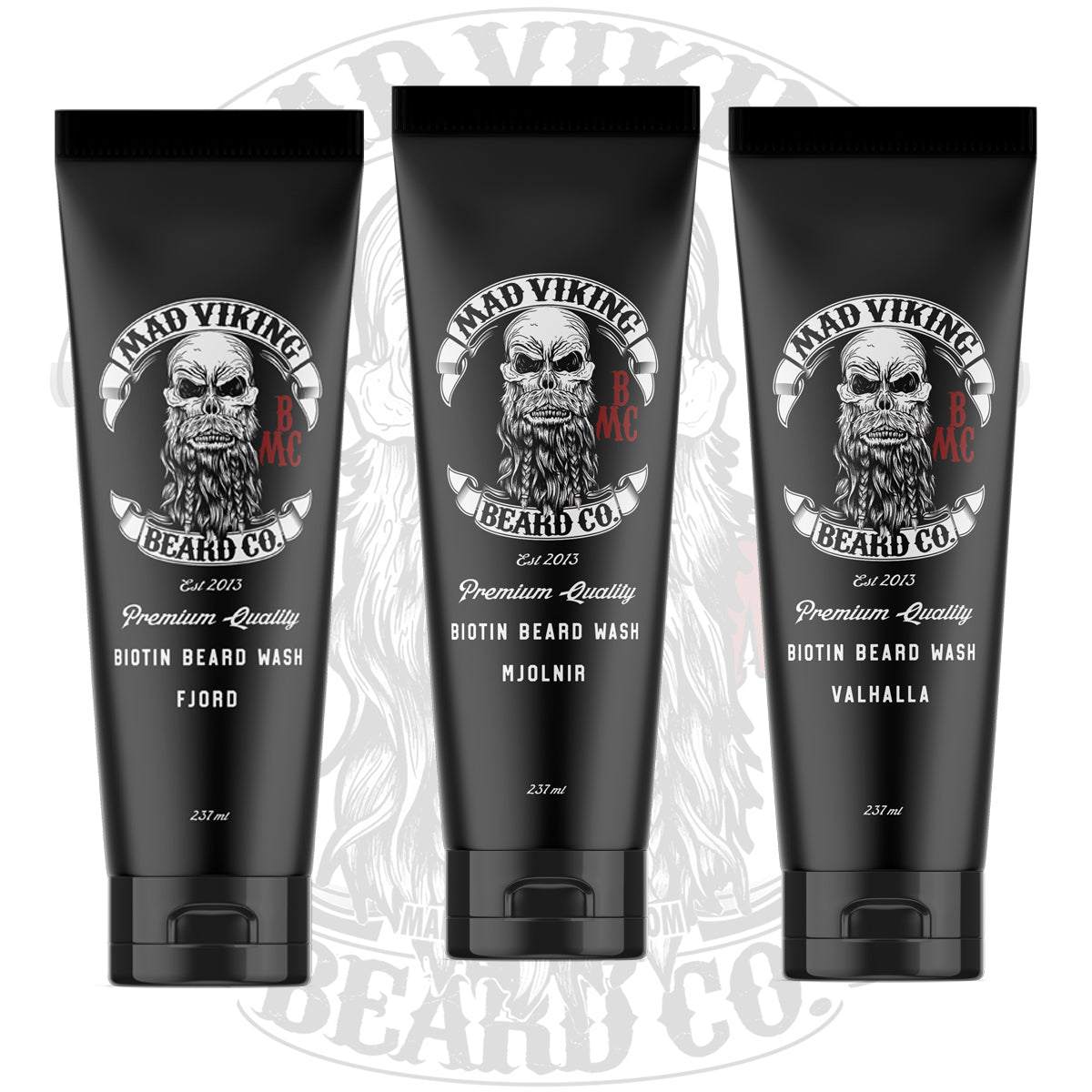 MAD VIKING BIOTIN BEARD WASH 3 PACK
Regular price
$49.99
$49.99
/
---
MAD VIKING BIOTIN BEARD WASH 3 PACK [16oz]

The Mad Viking Biotin Beard Wash 3 Pack is a specially formulated beard growth shampoo that combines the restorative benefits of botanical extracts and vitamins to promote healthy, long-term beard growth. Biotin, Pro-Vitamin B5, Ginseng, and Seaweed Extract work to nourish the scalp and fortify strands for hair that grows strong from root to ends. Smoothing Camellia and Olive Oils leave hair feeling soft and hydrated. Especially beneficial for fine, thin, or dry/damaged beard types. The Biotin Beard Wash is formulated with natural ingredients and backed by the latest scientific research and designed to make your beard look as thick and healthy as possible.

SCENT PROFILE: DESCRIPTION IN THE TABS

KEY BENEFITS:
Biotin restores, rejuvenates and promotes healthy growth
Hydrolyzed Rice Protein strengthens hair cuticles for a fuller appearance and prevents breakage
Olive, Jojoba and Hemp Seed Oils smooth and hydrate
Top of the line quality natural ingredients
Great lather
No added sulfates
No added parabens
No added phthalates
Satisfaction Guaranteed: Our Shampoos and Conditioners are both made in a state of the art facility here in the USA, which is FDA Inspected and GMP Certified. This means our products are safeguarded by the highest level of manufacturing standards. All of our products are rigorously inspected for both product and packaging standards.
Ingredients:
Infusion of Lavandula Officinalis (Organic Lavender) Water and Rosmarinus Officinals (Organic Rosemary) Water, Equisetum Arvense (Organic Horsetail Plant) Extract, Urtica Dioica (Organic Nettle) Leaf Extract, Salvia Officinalis (Organic Sage) Extract, Panax Ginseng (Organic Korean Ginseng) Extract, Calendula Officinalis (Organic Calendula) Extract, Olea Europaea (Organic Olive) Oil, Camellia Oleifera (Organic Camellia) Leaf Extract, Simmondsia Chinensis (Jojoba Oil), Laminaria Digitata (Seaweed) Extract, Decyl Polyglucose, Coco Glucoside, Cocamidopropyl Betaine (Surfactant), Xanthan Gum, Vegetable Glycerin, Cannabis Sativa (Organic Hemp) Seed Oil, Panthenol (ProVitamin B5), Hydrolyzed Rice Protein, Inositol, Cystine, Cysteine, Methionine, Biotin, Sodium Benzoate, Benzoic Acid, Vitamin D, Citric Acid, Benzyl Alcohol, Salicylic Acid, Glycerin, Sorbic Acid.
Scent Profiles:
Berserker (Lemongrass, Sandalwood, Peppermint and Patchouli)
Blodorn (Coffee, Mocha, Peppermint)
Dragonshead (Coconut with lite Lime)
Fjord (Classic and clean cologne scent. You will find hints of mint, cardamom, orange blossum, cedarwood and sandalwood)
Gungnir (Mountain airy with masculine spices and hints of musk)
Ingen Doft (Scentless)
Jotunn's Brew (Nag Champa)
Laderrock (Leather)
Mjolnir (Sandalwood, Cedarwood, Peppermint)
Odin's Rok (Pipe tobacco with Cherry)
Ragnarok (Citrus, Orange, Lemon, Lime)
Ravn Rom (Old Barbershop, Bay Rum with lite Lime)
The Hollow (Woodsy somewhat earthy notes with herbaceous vetiver undertones)
The Orchard (Apple, Light Vanilla)
Valhalla (Sandalwood, Vanilla)
Yggdrasil (Heavy Pine with light crisp citrus)