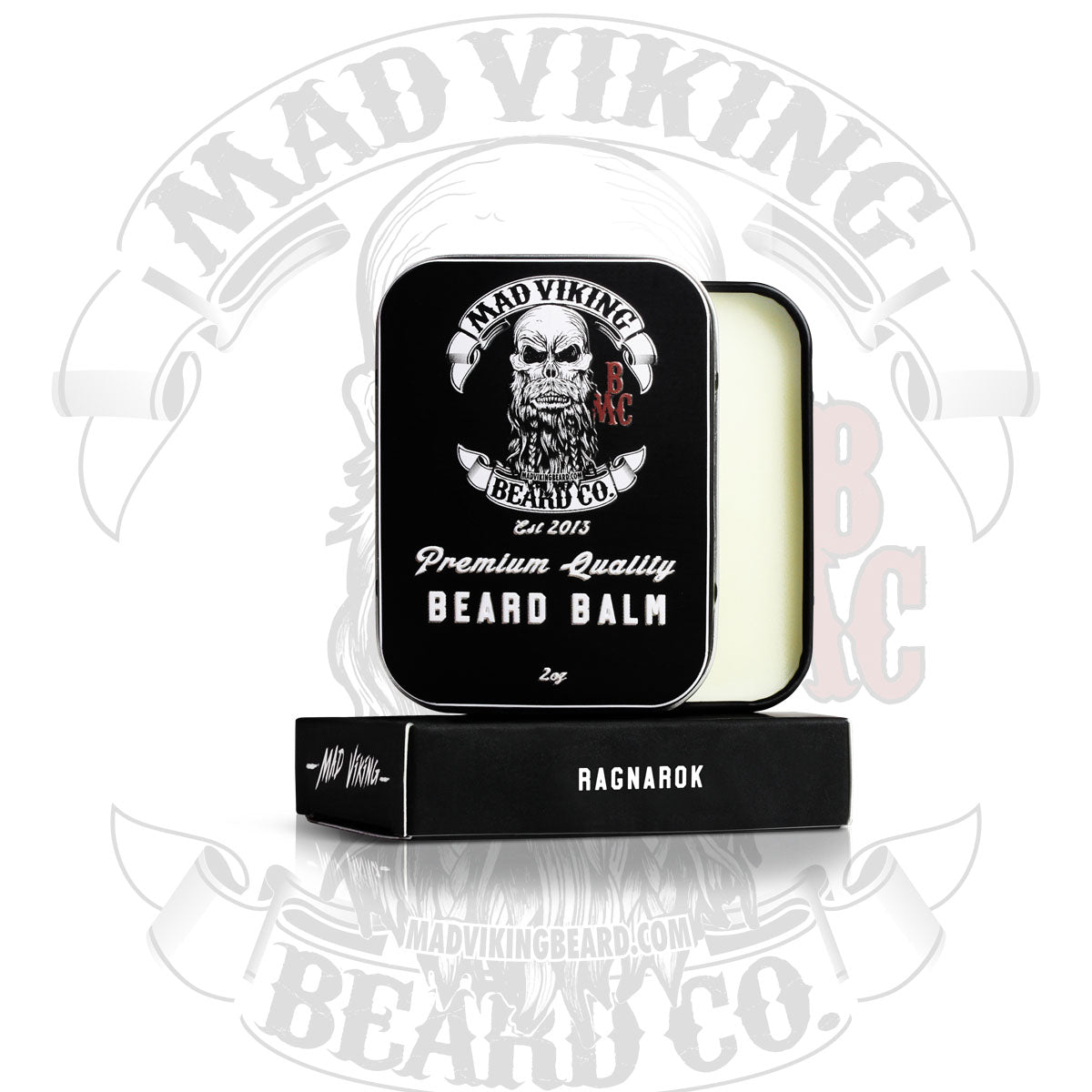 RAGNAROK BEARD BALM
Regular price
$19.99
$19.99
/
---
RAGNAROK BEARD BALM [2oz]
[Rag-nar-rock]: The Doom of the Gods, the name the pre-Christian Norse gave to the end of their mythical cycle, during which the cosmos is destroyed and is subsequently re-created. Ragnarok Beard Balm has a heavy citrus profile that presents itself in an incredibly smooth, refreshing manner. Primary notes include orange and tangerine, with subtle undertones of lemon and lime finishing off the scent.
SCENT PROFILE: ORANGE, LEMON, LIME CITRUS

KEY BENEFITS:


MEDIUM HOLD FOR STYLING
ALL NATURAL BASE OILS & BUTTERS
NON GREASY
EASY TO APPLY
RELIEVES DRY SKIN
LOCKS IN MOISTURE FOR SKIN AND BEARD
STOPS BEARD DANDRUFF
KILLS THE BEARD ITCH
PROMOTES STRONG & HEALTHY GROWTH
NONCOMEDOGENIC
Our Beard Balm consists of the following nutrient rich base oils, butters and waxes to help maintain, condition, manage and promote healthy growth and provide a medium styled hold without looking greasy. Mad Viking Beard Balms are just better for your beard.
For more information about our balm ingredients, including their benefits, click here: Balm Ingredients
Sweet Almond Oil (cold pressed) / Scientific Name: Prunus dulcis
Apricot Kernel Oil (cold pressed) / Scientific Name: Prunus armeniaca
Pumpkinseed Oil (cold pressed)
Avocado Oil (cold pressed) / Scientific Name: Persea gratissima
Grapeseed Oil Organic (cold pressed) / Scientific Name: Vitis vinifera
Jojoba Oil Golden Organic (cold pressed) Scientific Name: Simmondsia chinensis
Hempseed Oil (cold pressed)
Vitamin E Oil (Alpha Tocopherol)
Shea Butter Virgin Unrefined (certified organic)
Cocoa Butter (Natural Deodorized)
Beeswax